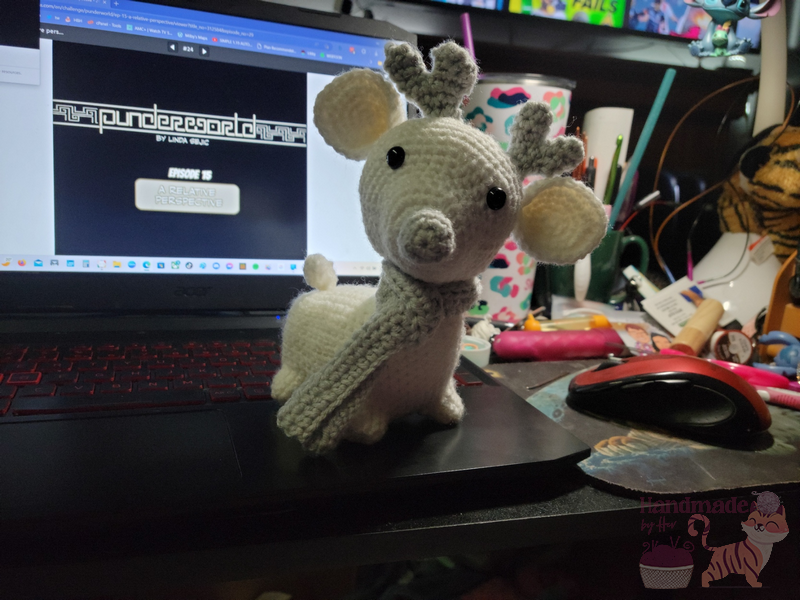 So, I finished a Christmas Reindeer for my training supervisor. I believe it is one of the cutest things I have ever made. I posted this one on Facebook a few weeks ago and when my training supervisor saw it, she asked if I could make it. I happily said yes and as soon as I got done with the other six toys were done, I started on this one. Surprisingly this one did not take as long as I thought it would. The small pieces were fiddley, but I got them to work. If you want the info on the pattern and yarn, I used just comment here.
Now I have two pairs of socks to complete and a blanket to complete. I should also find time to work on my temperature blanket sometime, lol. I think I am on the month of January still on it. Though I have kept track of the temperatures each day so I can follow them when I work on it. I am making it into a king size blanket when it is done. I have no clue how I am going to wash it when it is done. I also have another pair of socks for JR, his blanket, and several other UFOs to complete. My work never ends, lol.
My next photo is from the socks I am making Rachel. Pattern: Morning Coffee Socks Yarn: Yarn Bee Authentic Hand-Dyed in Myrid Lights I am still working on the cuff. Though I only have ten more rounds more to go before starting the actual pattern. I just cannot decide which side I like better. The one on the left is inside out but I love the texture look. The one on the right is right side out so it is smooth looking.